The follow up to 2017's Wonder Woman has it's first trailer and gives as a good look at most of the main cast (sorry furries, no Cheetah shots). Check it out below!
It seems that the film will be continuing the theme set out by both Aquaman and Shazam. Using a much lighter tone and a much more vivid colour scheme. Between the 80's music and the bright, popping colours it'd be easy to draw similarities to Guardians of the Galaxy, though I doubt this film will be quite THAT out there! Whether they still plan to tie these properties all together or be stand alone films remains to be seen. However, I'd like to think there's still life in the DCEU yet. Both Aquaman and Shazam were well received by fans and critics. While there is also quite a buzz around the upcoming Harley/Birds of Prey film. Add in the hype around The Batman and Black Adam and maybe, just maybe, they could salvage this expanded universe.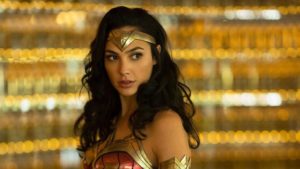 The Trailer gives us a good look at the main cast and there doesn't seem to be any major spoilers, which is a nice change for DC trailer too. File this one under "Hype" for me, Gal Gadot is always a win. I look forward to seeing what they do next with her character and I'm very excited for this film.
Wonder Woman 1984 is set to hit Cinemas in June 2020 and will star Gal Gadot as Diana/Wonder Woman, with Chris Pine returning (in some form) as Steve Trevor. The cast is also bolstered by the return of Robin Wright as Antiope, Connie Nielsen as Hippolyta. As well as newcomers Kristen Wiig and Pedro Pascal as Minerva/Cheetah and Max Lord respectively.
What are your thoughts? Were you interested before? Has this trailer piqued your interest? Or is it a No for you? Let us know what you think!!